Beck Brow Glory Daze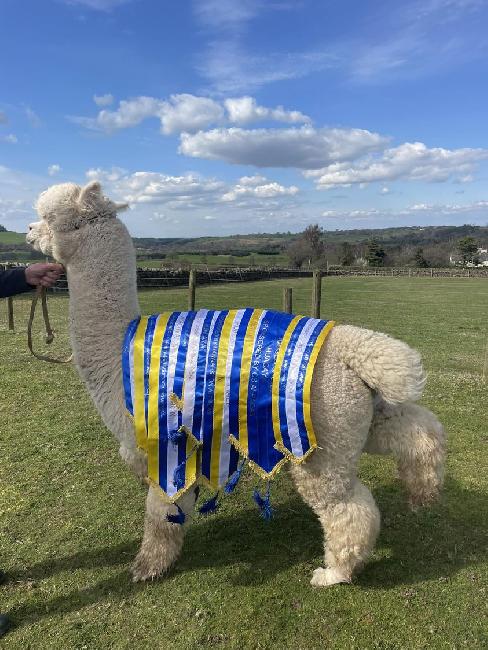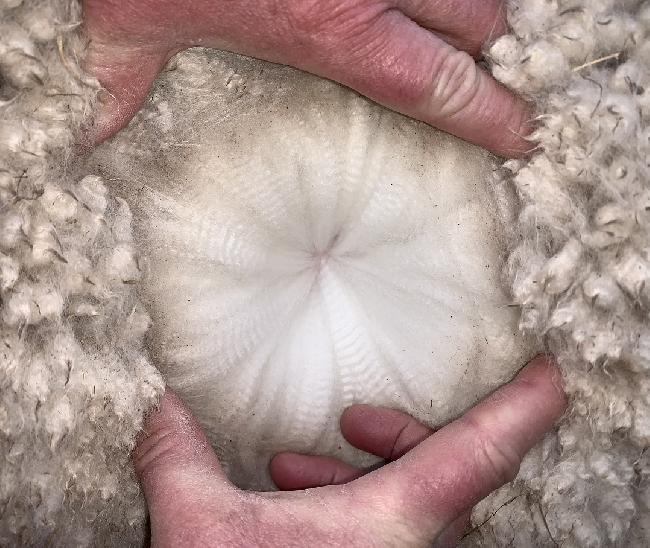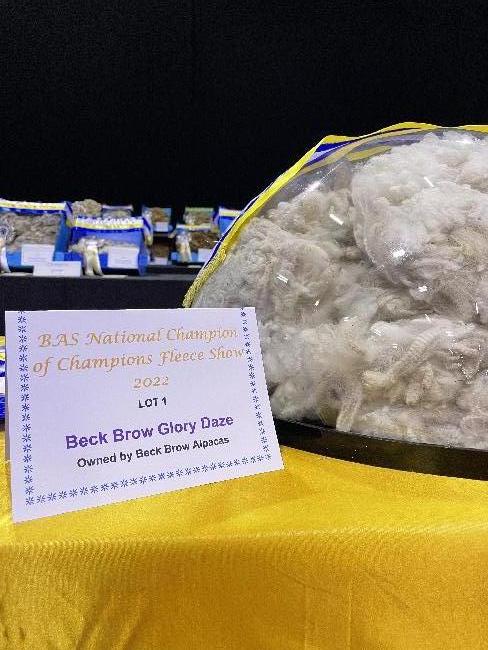 Alpaca Seller Information:
Breeder Information
Breeder Name:
Beck Brow Alpacas of Cumbria
Contact Name:
Barbara Hetherington
Telephone Number
01768896105
General Information
Name
Beck Brow Glory Daze
Date listed
2nd March 2021
Date modified
24th November 2021
Proven/Unproven:
Unproven
Blood Lineage:
Peruvian/Australian
Organisations Registered With:
BAS
Description
****BAS Stud Auction Only****

Beck Brow Glory Daze represents many years of selective breeding for exceptional fleece and conformational traits. He is both genetically and phenotypically outstanding.

His sire Bozedown Blaze of Glory needs no introduction having taken National White Male Champion in 2018, along with many other accolades, including multi- supreme championships. A truly outstanding male.

His dam is from one of our strongest female lines. Herself a multi-champion she is also full sibling to Beck Brow First Edition who stands at stud at Beck Brow. Both sired by the renowned Beck Brow Explorer.

This young male already has an exceptional presence, standing proud and looking very much the Macho in his group, much like his sire. Also inherited from his sire is his calm temperament making him a joy to handle.

Glory Daze exhibits exquisite fleece qualities. Beautifully soft handling, dense, fine and very well organised. Add to that great fleece length, coverage and excellent uniformity of micron and you can understand why we rate this male very highly.

First fleece stats:

MFD: 14.3 SD 3.6 CV 25.3 CF 100% CRV 47.1

Second fleece stats:

MFD: 16.3 SD 3.8 CV 23.5 CF 100% CRV 48.2

Glory Daze was expected to be one of the stars of our 2020 show team. A standout from birth we had hoped to see him in broad ribbons but of course, the pandemic put a stop to that. He has however made up for time lost by taking Supreme Champion at the two shows entered in 2021.

We did enter his fleece in the SWAG Fleece Show where he was awarded Reserve White Champion (84.5) behind the Supreme Beck Brow Smitten Kitten (85 points)
****Glory Daze overall BAS National Champion of Champions Reserve Supreme 2021 (Smitten Kitten Supreme*****


Now multiple Supreme halter.

Glory Daze is to be kept in-house during 2022 (as is his sire). .

We are delighted with how this male has developed both in fleece and conformation. With such powerhouse genetics behind him, the chances are high that his progeny will also be something special.
Prizes Won:
SWAG Fleece Show

1st Junior White Fleece
Reserve Champion White Fleece (84.5 pints)

Northern Halter Show 2021

Champion White Male
Overall White Champion
Best of British
SUPREME CHAMPION

NEBAG Halter Show 2021

Champion White Male
Best of British
SUPREME CHAMPION
Date of Birth:
1st June 2019
Current Age:
2 Years and 7 Months
Sire and Dam Information
Name of Sire:
Bozedown Blaze of Glory
Sire is a solid colour:
Yes
Name of Dam:
Beck Brow Bedazzle
Fleece Information
Date of last sample:
28th February 2021
Age of animal at last sample:
1 Year and 8 Months
Fibre Testing Authority:
Art of Fibre
Fleece Number of last sample:
2nd
Diameter (Micron) of first fleece sample:
14.30
Diameter (Micron) of last fleece sample:
16.30
Last sample % Fibre Over 30 microns:
0.00
Last Comfort Factor (%):
100