Redens Agamemnon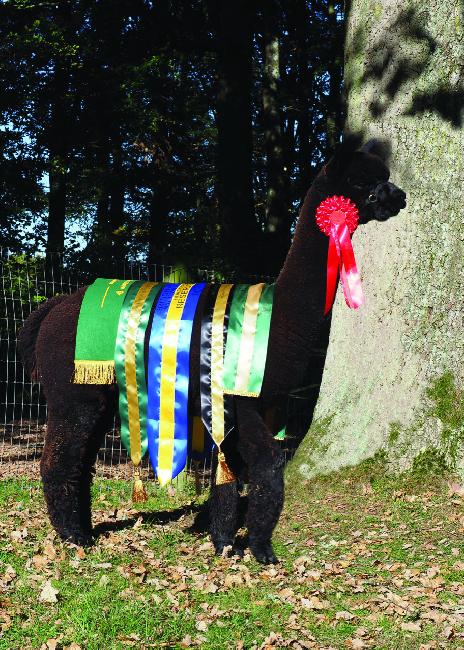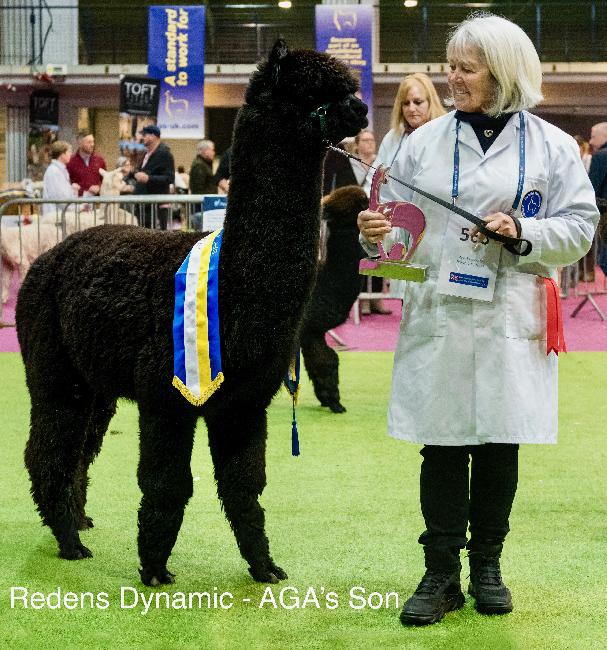 Alpaca Seller Information:
Breeder Information
Breeder Name:
Redens Alpacas
Contact Name:
Linda Mackintosh
Telephone Number
0711 647107
General Information
Date listed
30th January 2019
Date modified
16th March 2021
Blood Lineage:
Australian British
Organisations Registered With:
BAS UKBAS32839
Web link specific for this stud:
Description
AGA is the son of Surtierra Shadow and Redens Vogue
He is an exceptional black male with a fine and dense fleece on a beautifully correct frame with a deep chest and great strength of bone. His first fleece was finer than his fathers first fleece which is quite special and he has kept that fineness with a minimum increase in micron with his second fleece.The fineness and density of his fleece extends up the neck and throughout the blanket. Aga's first cria was born in July 2019, he is Redens Dynamic who is a an impressive weanling, blue black, carrying a 17 micron fleece, 4 SD with good density and 100% comfort factor. AGA has had significant success in the show ring being awarded champion or reserve champion black huacaya in almost every halter or fleece show that he has entered. In the East of England halter show in October 2018 he was selected as the Judges Choice in the Supreme lineup having been awarded the Black Male Huacaya Championship.
AGA is an in house male and is not available to provide outside stud services.
Prizes Won:
Heart of England Fleece Show 2019 - Black Huacaya Champion
Heart of England Halter Show 2019 - Reserve Champion Black Male Huacaya
BAS Nation Show - 2019
1st Place Adult Black Male Huacaya.
East of England Halter Show - 2018
1st Place Adult Black Male Huacaya, Champion Black Male Huacaya
Judges Choice Huacaya in the supreme lineup
South of England Halter Show - 2018
1st Place Adult Black Male Huacaya. Champion Black Male Huacaya
BAS Nation Show - 2018
1st Place Intermediate Black Male Huacaya. Reserve Champion Black Male Huacaya
Heart of England Autumn Fleece Show - 2017
1st Place Junior Black Huacaya. Reserve Champion Black Huacaya
East of England Fleece Show - 2017
1st Place Junior Black Huacaya, Champion Black Huacaya
Date of Birth:
2nd June 2016
Current Age:
5 Years and 7 Months
Sire and Dam Information
Name of Sire:
Surtierra Shadow
Sire is a solid colour:
Yes
Name of Dam:
Redens Vogue
Dam is a solid colour:
Yes
Fleece Information
Date of last sample:
18th May 2018
Age of animal at last sample:
1 Year and 11 Months
Fibre Testing Authority:
Australian Alpaca Fibre Testing
Fleece Number of last sample:
2nd
Diameter (Micron) of first fleece sample:
17.60
Diameter (Micron) of last fleece sample:
18.60
Last sample % Fibre Over 30 microns:
0.90
Last Comfort Factor (%):
99.1
Last Yield (Kg/Year):
4.20
Staple Length of last sample:
130