Fowberry Constantine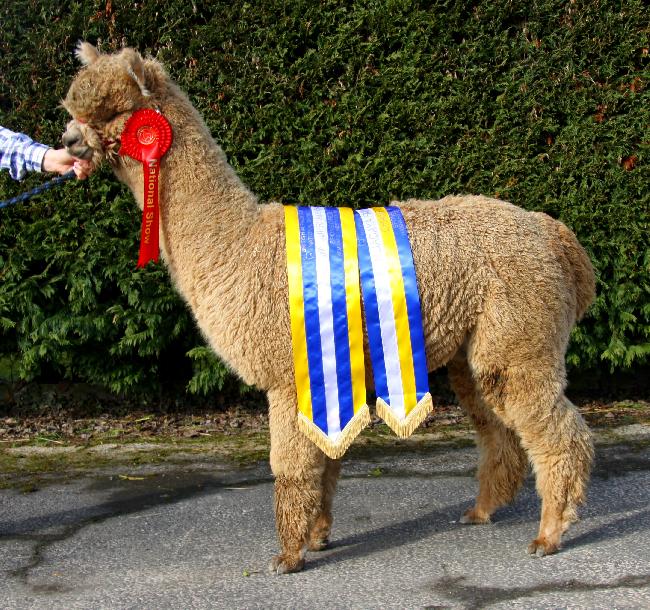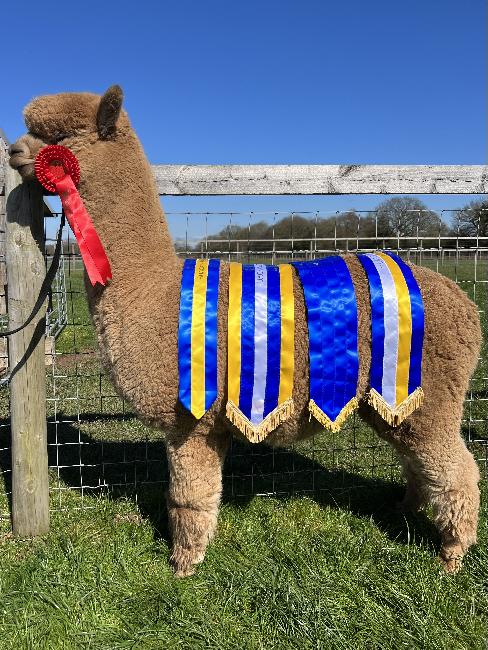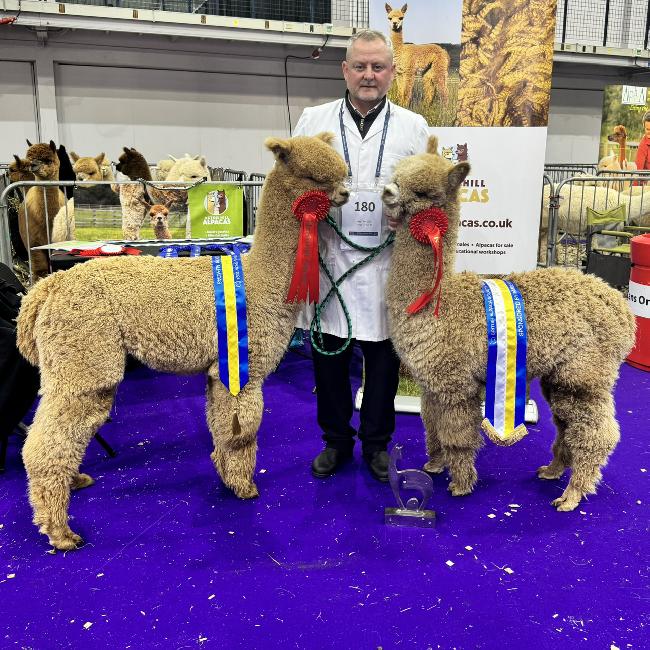 Alpaca Seller Information:
Breeder Information
Breeder Name:
Acton Hill Alpacas
Contact Name:
Stuart Wilson
Town/Village:
Newcastle under Lyme
Telephone Number
07989599801
General Information
Name
Fowberry Constantine
Date listed
13th February 2019
Date modified
20th March 2021
Blood Lineage:
FULL AUSTRALIAN
Organisations Registered With:
BAS
Description
Fowberry Constantine is the result of some truly elite genetics in the Fowberry herd. He is available for stud services now he has his first cria on the ground.
Constantine was awarded BAS National Supreme Champion in 2017 - this is the Judge oral reasoning from the video stream: This male displays the phenotype we aspire to, with a very, very bright, highly organised fleece, giving all the indications of fineness and uniformity and that is what we found. But most impressive was his length of staple both in class and the Championship.

Constantine had grown 160mm in only 8 months. His first fleece histogram recorded: 16.9micron, SD 3.9micron, CV23.3%, CF100%. His fleece can be summed up in three words, uniformity, uniformity, uniformity!

His sire, Fowberry Nobility, is one of the most successful males in the UK, not just for his own unbeaten show record at some of the most important shows in Europe (against 138 fawn males in total) but for his progeny winnings, amongst which, they took Fawn Male Champion three years running at the BAS National Show and also Light Female Champion.

His dam, Cambridge Prada, is a big, heavy set daughter of Spartacus, who is uniquely dense-fleeced. Her four offspring are all prize winners at National level and her two boys are both successful herd-sires.
Prizes Won:
2017 BAS National Show - 1st Junior Fawn
2017 BAS National Show - Fawn Male Champion
2017 BAS National Show - Supreme Champion
2019 BAS National Fleece Show - Judges Choice Huacaya Champion
Date of Birth:
6th July 2016
Current Age:
5 Years and 6 Months
Sire and Dam Information
Name of Sire:
FOWBERRY NOBILITY
Colour of Sire:
Dark Fawn
Sire is a solid colour:
Yes
Name of Dam:
CAMBRIDGE PRADA
Dam is a solid colour:
Yes
Fleece Information
Date of last sample:
6th June 2018
Age of animal at last sample:
1 Year and 11 Months
Fibre Testing Authority:
Australian Alpaca Fibre Testing
Fleece Number of last sample:
2nd
Diameter (Micron) of first fleece sample:
16.90
Diameter (Micron) of last fleece sample:
20.20
Last sample % Fibre Over 30 microns:
1.50
Last Comfort Factor (%):
98.5
Last Yield (Kg/Year):
4.90
Staple Length of last sample:
145