Winsaula Joker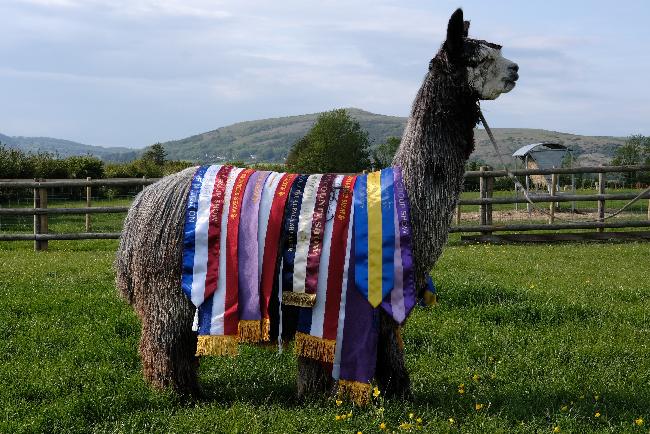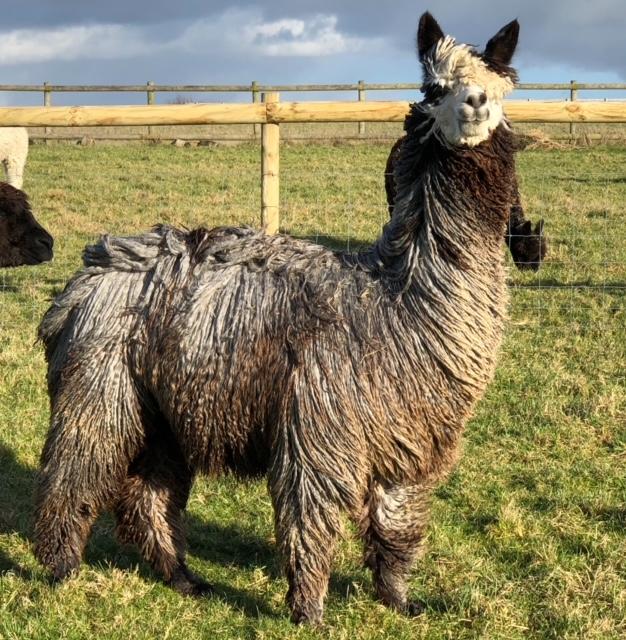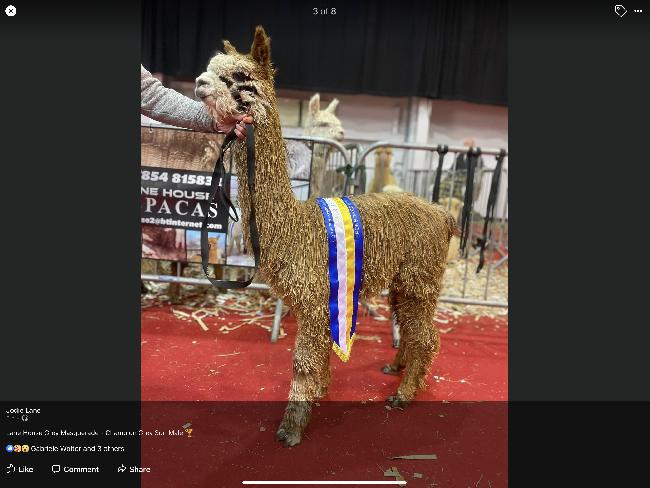 Alpaca Seller Information:
Breeder Information
Breeder Name:
WINSAULA ALPACAS
Contact Name:
Paula and Mark Winsor
Town/Village:
Badgworth, Nr Cheddar
Telephone Number
01934 732324
General Information
Date listed
20th October 2019
Date modified
9th March 2020
Proven/Unproven:
Unproven
Service Type:

Drive By
Mobile Mate

Blood Lineage:
Macgyver, Accoyo
Organisations Registered With:
BAS
UKBAS31347
Description
Our triple Supreme Champion Winsaula Joker is a stunning and very rare medium Silver Grey Suri. He has an abundance of fleece which hangs in beautiful uniform ringlets with great lustre and extreme density.

Joker stands on an extremely solid frame with outstanding body capacity and substance of bone.

He has a very calm and placid temperament on the farm. He is relaxed, respectful, intuitive and easy to handle, charming all visitors into claiming him as their favourite.

He has five confirmed pregnancies in 2019, three of which were visually scanned again in February 2020, and confirmed to be growing very nicely. We are looking forward to seeing Joker's Cria on the ground in 2020.
Prizes Won:
The first and only grey Suri to win Three SUPREME Championship titles and multiple championships:

SWAG at Royal Bath & West 2018
SURI SUPREME CHAMPION
BEST BRITISH BRED SURI

Devon County Show 2018
SURI SUPREME CHAMPION

Yorkshire Alpaca Halter Show 2018
SURI SUPREME CHAMPION
BEST BRITISH BRED SURI

National Halter Show 2018
Suri Junior Grey Male -1st
Suri Res Champion Grey Male

Devon County Show 2018
Suri Junior Grey Male - 1st
Suri Champion Grey Male

North Somerset Show
Suri Junior Grey Male - 1st
Suri Champion Grey Male

SWAG at Royal Bath and West 2018
Suri Junior Grey Male - 1st
Suri Champion Grey Male

Three Counties Halter Show 2018
Suri Intermediate Grey Male - 1st
Suri Champion Grey Male

Eastern Alpaca Group Halter Show 2018
Suri Intermediate Grey Male - 1st
Suri Champion Grey Male

Yorkshire Alpaca Halter Show 2018
Suri Intermediate Grey Male - 1st
Suri Champion Grey Male

National Halter Show 2019
Suri Intermediate Grey Male - 1st
Suri R Champion Grey Male

Spring Alpaca Fiesta - H O Eng
Suri Intermediate Grey Male - 1st
Suri R Champion Grey Male

Devon County 2019
Suri Intermediate Grey Male - 1st
Suri Champion Grey Male

South of England 2019
Suri Intermediate Grey Male - 1st
Suri Champion Grey Male

HoE Autumn Fleece Show
Suri Adult Grey Male - 1st
Suri Champion Grey Male
Solid Colour:
Not applicable for grey animal
Date of Birth:
4th June 2017
Current Age:
3 Years and 1 Month
Sire and Dam Information
Name of Sire:
Wellow Va Va Voom @ Faraway Alpaca?s
Colour of Sire:
Light Grey
Name of Dam:
Suriel Angel
Fleece Information
Date of last sample:
11th October 2018
Age of animal at last sample:
1 Year and 4 Months
Fibre Testing Authority:
Australian Alpaca Fibre Testing
Fleece Number of last sample:
1st
Diameter (Micron) of first fleece sample:
21.40