Meon Valley The Sorcerer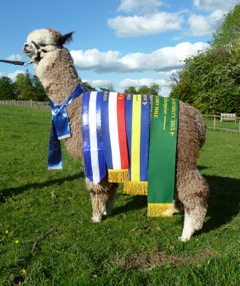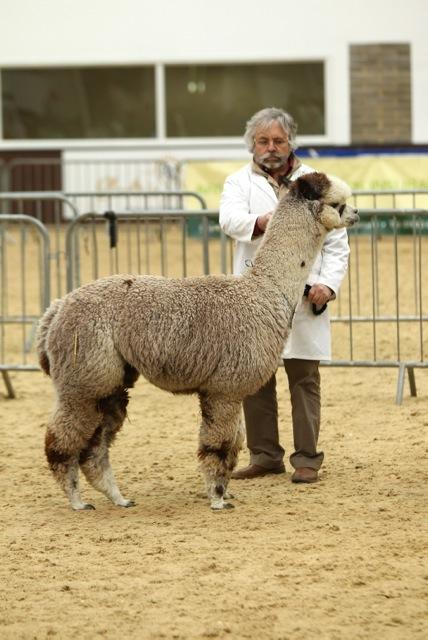 Alpaca Seller Information:
Breeder Information
Breeder Name:
MEON VALLEY ALPACAS
Contact Name:
Karen Oglesby
Telephone Number
07913247144
General Information
Name
Meon Valley The Sorcerer
Date listed
1st January 1970
Date modified
16th April 2019
Service Type:
On Farm
Drive By
Mobile Mate

Organisations Registered With:
BAS23322
Description
The Sorcerer is an exceptional grey alpaca. The winner of 15 broad ribbons , including Champion Grey Male at the 2014 National, 2014 Showtime and 2014 Heart of England Alpaca Fiesta, under both National and International Judges. A well balanced male he has the presence and substance of bone required of a true stud. He exhibits a fabulous uniform, highly organised, and extremely dense fleece, with a high frequency crimp style, which extends into the neck, legs and belly. It has excellent brightness and is holding its fineness with a super soft handle and a long staple length.

He is the result of many years selective breeding for quality greys on our farm and subsequently has numerous greys in his pedigree. His sire is our highly respected Meon Valley Ardingly, who did so well in the show ring, only being beaten by Alpaca Stud's Nyetimber.

The Sorcerer has proven himself to be pre-potent in the production of quality, and predominantly grey offspring, many going on to win at shows, including Championships.
Prizes Won:
2012 British Alpaca Futurity Junior Grey Male 1st and Reserve Champion Grey Male
2012 South West Group Spring Show 1st Junior Grey Male and Champion Grey Male and Best of British
2012 Spring Alpaca Fiesta - heart of England Junior Grey Male 1st and Reserve Champion
2012 South Of England Junior Grey Male 1st and reserve Champion Grey Male
2012 Romsey Show Intermediate Grey Male 2nd
2013 British Alpaca Futurity Intermediate Grey Male 1st and Champion Grey Male
2013 Heart of England 1st Intermediate Grey Male & Reserve Champion Grey Male
2013 North Somerset 1st Intermediaste Grey and Champion Grey Male
2013 BAS Nationals 1st Intermediate Grey Male
2014 BAS Nationals 1st Adult Grey Male
2014 NAS Nationals Champion Grey Male
Solid Colour:
Not applicable for grey animal
Date of Birth:
14th June 2011
Current Age:
7 Years and 10 Months
Sire and Dam Information
Name of Sire:
MEON VALLEY ARDINGLY
Colour of Sire:
Dark Grey
Name of Dam:
Meon Valley Sabrina
Fleece Information
Date of last sample:
25th May 2013
Age of animal at last sample:
1 Year and 11 Months
Fibre Testing Authority:
Australian Alpaca Fibre Testing
Fleece Number of last sample:
2nd
Diameter (Micron) of last fleece sample:
21.40