Surico Travator of Houghton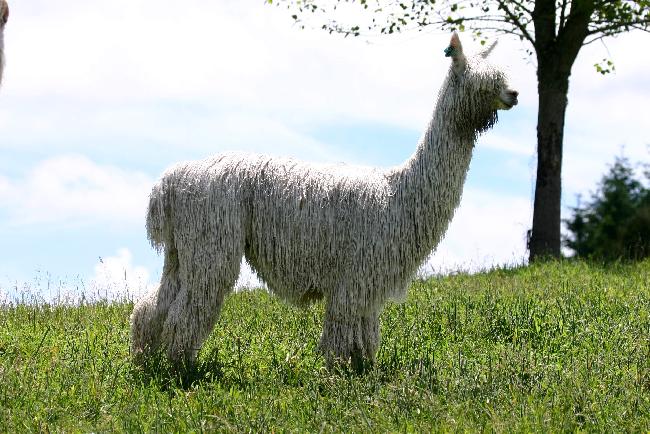 Alpaca Seller Information:
Breeder Information
Breeder Name:
Houghton Hall Alpacas
Contact Name:
Mick and Liz George
Telephone Number
07764 469132 07860 430280
General Information
Name
Surico Travator of Houghton
Date listed
24th January 2010
Date modified
24th January 2010
Blood Lineage:
Australian - Accoyo
Organisations Registered With:
BAS - UKBAS12688
Description
We imported this fine male Travatore from New Zealand for his exceptional quality of fleece and outstanding breeding, we just couldn't resist him. He has a solid compact frame with perfect conformation. His fleece exhibits extreme density and superb lustre. He is well covered with a fine, soft handle and independent locks from head to toe. He brings unique Accoyo genetics, with his sire being Surilana Parsifel who himself has had 57 Supremes and 200 broad ribbons awarded to his progeny. Travatore like his father is exhibiting exceptional suri traits; seeing his progeny excel in the 2014 show ring gaining a first in every show attended. With his daughter Royal Duchess scooping Supreme at six shows! 2015 was another superb year for his progeny with Houghton Maddox taking home a Supreme Champion ribbon, and others taking home Champion and a Reserve Supreme Champion titles showing his genetics are still proving to be formidable competition in the ring. 2017 was another bumper year for Travatore Progeny. What will 2018 bring?

Please Note: No Houghton Hall Stud males are not available for services in 2017 outside the BAS Stud Auction.
Prizes Won:
In NewZeland:-
2008 National Show
(1st) Junior Male Suri(9-12 months).
Junior Champion Male Suri.
2008 Waikato's World Show
(1st) Junior Male Suri
Junior Champion Male Suri
Supreme Champion Suri
2008 Manawatu A&P Show
(1st) Junior Male Suri
Junior Champion Male Suri.

2009 Rotorua A&P Show
(1st) Intermediate Male Suri
Champion Suri (Colour Show)
Supreme Champion Suri.
2009 Franklin A&P Show
(1st) Intermediate Male Suri
Intermediate Champion Male
Supreme Champion Suri.
Kumeu A&H Show
(1st) Intermediate Male Suri.
Intermediate Male Champion.

In the UK:-
2009 Westmorland County Show
(1st) Suri Adult Male - White
2010 Spring Alpaca Fiesta - H O Eng
(2nd) Suri Adult Male - White.
NWAG Alpaca Championship Suri 3 Progeny By One Sire 1st
2013/04 Spring Alpaca Fiesta - H O Eng Suri 3 Progeny By One Sire 1st
2013/11 S W A G Autumn Show Suri 3 Progeny By One Sire 1st
2014/03 National Show Suri 3 Progeny By One Sire (L 1st
2014/03 Alpaca Showtime 2014 Suri 3 Progeny By One Sire 1st
2014/04 Spring Alpaca Fiesta - H O Eng
2014/05 South Of England - Ardingly Suri 3 Progeny By One Sire 1st
2014/05 Royal Bath And West Show Suri 3 Progeny By One Sire 1st
2014/06 Three Counties Halter Show Suri 3 Progeny By One Sire 1st
2015/03 National Halter Show Suri 3 Progeny By One Sire (L 2nd
2015/10 Alpaca Showtime 2015 Suri 3 Progeny By One Sire 2&3
2016/05 South Of England - Ardingly 20 Suri 3 Progeny By One Sire 2nd
2016/10 Alpaca Showtime 2016 Suri 3 Progeny By One Sire 1st
2017/03 National Halter Show Suri 3 Prog. by 1 Sire (white, 1st
2017/04 Spring Alpaca Fiesta - H O Eng Suri 3 Progeny By One Sire 1st
Date of Birth:
19th July 2007
Current Age:
11 Years and 3 Months
Sire and Dam Information
Name of Sire:
Surilana Parsifal (Full Accoyo)
Sire is a solid colour:
Yes
Name of Dam:
Surico Silken Melody